Brea's Story
Brea (Bray-uh) is our fourth Guide Dog puppy, and our first female. She is a beautiful red sable german shepherd dog, and she is absolutely adorable.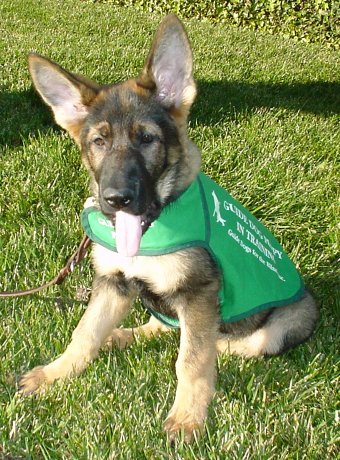 Brea was born on September 14, 1999, and we brought her home on November 9, 1999. We originally were just going to provide foster care for a couple of days until a raiser was arranged for her, but when that raiser didn't work out, we decided to raise her. We fell in love with her immediately.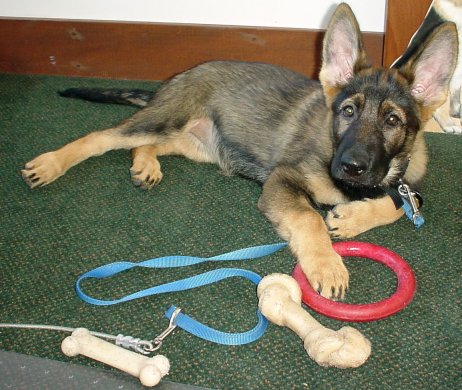 Brea is very sweet, and she is very well behaved. We are thrilled to have her with us, and look forward to many adventures together.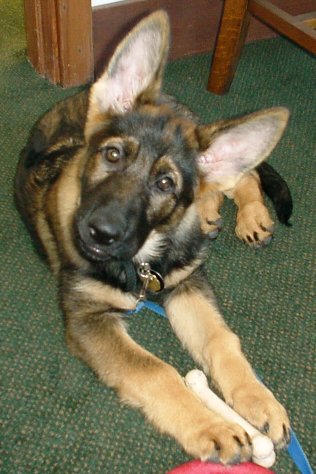 ---
The latest on Brea...
4/28/00
Brea has been dropped from the guide dog program and is now a permanent resident of our household.
When she started having fear reactions to people (especially small children) and dogs, and began to bark frequently, she was sent to the Oregon GDB campus to be placed in a special training program to try to get her to get over it. After about 6 weeks, it was decided that she should be dropped.
Since being home, she is starting to mature. She has not shown the same reactions so far that she did before going to Oregon. She is going to be just fine.
Brea will begin agility training this summer. She is a high energy dog with a lot of drive, and we believe she will do very well.
---
If you have any comments, please drop us a line by clicking on this image

.