Darth's Story
Darth is a black German Shepherd dog, and our pride & joy. Like Judah, Darth was born at Guide Dogs for the Blind, Inc. and raised to be a guide dog.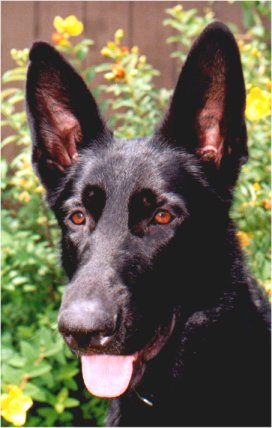 Darth was born February 13, 1996 at the San Rafael, CA campus of Guide Dogs for the Blind, Inc. (GDB) to the proud parents of Misha and Indy. He was one of 10 in a litter of 7 males and 3 females, collectively known as the "D" dogs. When a litter of dogs is born at GDB it is assigned a letter and all of the pups will have names that start with that letter. In Darth's litter there was Darth, Detroit, Diesel, Dave, Dash, Dover, Daphne, Dream, Daily, and Dart. Of the 10 "D" dogs, 3 went on to be guide dogs, 3 became breeders, and 4 were dropped, one of which was Darth.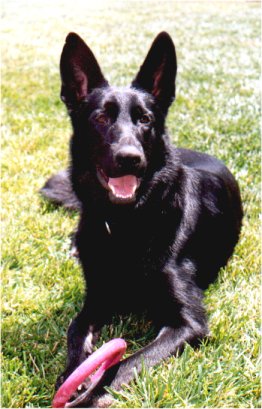 We officially became Darth's third raisers on February 28, 1997. Being over a year old, he had already learned most of the obedience that was necessary, and so we concentrated on socializing him. We immediately started taking him to work; Jackie and I would alternate days with Darth. We took him EVERYWHERE with us: grocery stores, shopping malls, department stores, restaurants, movies, etc. The first movie Jackie and I took him to was "The Return of the Jedi", the third "Star Wars" movie. Darth's second raiser had already taken him to the first two in the series, and asked that we take him to the last so that he could "know his heritage" (Darth Vader).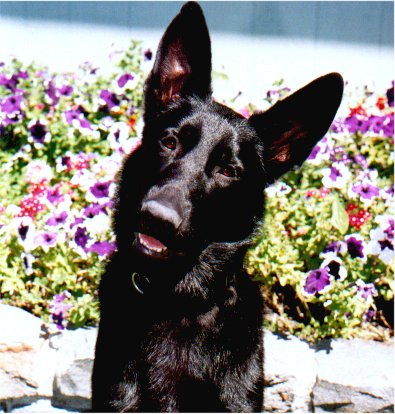 Unlike his namesake, Darth is not "twisted & evil", but is sensitive, loyal, and just plain wonderful. He weighs about 80 pounds and is about 26 1/2 " inches tall. He loves going for walks, chasing cats, and playing with his Kong and tug ring. He likes water, and in the summer we set up a "kiddy" pool in the backyard for him to play in.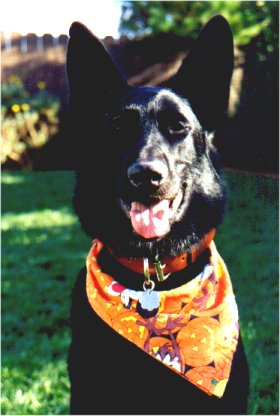 We returned Darth to GDB for training on August 11, 1997. As you might guess, it was a very hard thing of us to do. We were very sad that Darth was not with us anymore, but were hopeful that he would get through training and become a guide dog.
The same week that Darth went into training, we baby-sat a yellow lab puppy named Rueben, so were kept busy. Shortly after Rueben returned to his raisers, we received our second guide dog puppy, Judah. We didn't have too much time to be depressed about not having Darth around, but we missed him very much.
I was in my office working on the afternoon of August 28, 1997 when in ran Darth! The eye doctor had examined him the day before and found a "small iris melanoma" in his left eye. Because of this, he was dropped from the guide dog program, and became a "Career Change" dog (the term used to describe a dog that was dropped from the guide dog program, NOT "Reject"!), which meant that we could adopt him, and that's exactly what we did!
Darth still gets to go to work with Jackie and I since we both work for "dog friendly" companies. He is still adjusting to not being able to go everywhere with us; he thinks it's unfair that Judah now gets to go inside while he waits outside.
Darth would have made a great guide dog. Although it is disappointing that he didn't make it, we are very happy to have him back with us.
---
The latest on Darth...
11/11/99
Well, Darth is now an only child again, since Poco left for guide dog training on Monday. I think he was enjoying all the extra attention that he was getting (until the new puppy moved in. But that is another story...).

Well, all the agility training that Darth and I have been getting has paid off. We entered our first AKC agility trial in October and took second place! I was just hoping that I didn't embarrass myself (and Darth), and certainly didn't expect to do that well. We had a great time at the competition, and learned a lot!. We are continuing to take weekly agility classes, and are really enjoying it.
6/08/99
Darth and I have taken up intermediate agility again, and are having a great time. He is actually starting to understand what to do with the weave poles! Go Darth!
Darth competed in 4 events at the Marin County Humane Society Canine Games in May, and although he didn't win anything, we had fun. Darth competed in the Agility, Marathon Down, Walk the Dog, and Frisbee Catch (Darth's personal favorite) events. Darth got 4th place in both the Agility and Marathon Down events (so close!), but we don't know how he scored in the others. There's always next year!
We also got Darth his very own personal microchip in May.
2/10/99
Darth got a new frisbee for Christmas, and is now addicted to chasing it. Each time we go out walking, he has to have his frisbee with him. He is getting pretty good at catching it, too.
Darth went to the eye doctor last week, something that he absolutely hates to do. The doctor said that his melanoma has not grown back, but that the corneal dystrophy has gotten significantly worse. We will keep giving him the eye drops and monitoring it for now, but if it keeps getting worse Darth may have to have surgery again. I wonder if they will let him bring his frisbee with him?
12/08/98
Not too much going on with Darth these days. He and Poco are still getting along just fine. Darth is still going to work with us each day and absolutely loves it. He especially enjoys lunch time when we all go for a walk around the pond. Darth's eye is doing fine; no new news here. We got Darth a new tug for Christmas and he already knows what it is. He will go over to it and try to unwrap it. He also has a rawhide chew in his stocking that he is very interested in.
11/12/98
Darth and Poco are getting along just fine. Darth is a very good puppy raiser, which makes our life much easier. Darth knows not to play too rough and is very patient with Poco, even when Poco doesn't know when to quit.
Darth's eye is just fine. The cancer is gone, but the Corneal Dystrophy seems to be getting more pronounced. We have drops that he gets, twice a day every day.
Each night we take the boys for a walk around the neighborhood, which generally ends at the local park where we throw a ball for Darth to retrieve. This has become his favorite pastime, but since Daylight Savings Time ended our walks are generally after dark which, until recently, meant no ball for Darth. Jackie found a ball at the local pet store that lights up when it is thrown, so now Darth is happy again; he gets to chase the ball.
09/21/98
Darth is a lonely boy today because his buddy, Judah, left for training this morning. We will all miss Judah, but hope he becomes a Guide Dog.

Let's see, what has Darth been up to these last couple of months? Well, in July he got to visit his second raiser, Ann, while attending the Oregon campus of GDB's annual fun day for puppy raisers. Ann works at the Oregon campus so was working during fun day, but was thrilled to visit with Darth.

In August, we attended the San Rafael campus fun day where we hoped to see Darth's first raiser, Deborah, but she didn't make it.

Darth and I continued our agility training by enrolling in an intermediate agility class through Marin Humane Society. Darth was the only dog in the class that had not taken an intermediate class before, so wasn't quite as advanced as the others, but still did very well. We need to work on control through the obstacles, but Darth just loves to go through the course. We are currently taking a break from agility, but hope to pick it back up later this fall.

It looks as though Darth will soon have a new playmate. We will be receiving our third Guide Dog puppy in October. It is especially exciting for us since the puppy's father is Darth's brother, Dave! Darth gets to help raise his nephew.
06/08/98
Darth: Agility Champion!
On May 30, Darth started a beginning agility class offered through the local humane society. The class met each Saturday morning for the next 5 weeks, during which the dogs learned how to negotiate the basic agility equipment: the A-Frame, Tunnel, Dog Walk, Chute, Table, Teeter Totter, Jumps, and Tire. Darth was eager to learn each piece of equipment, and in no time at all was very comfortable doing them all. The last class, which met on June 27, was the graduation. The final exam was to have the dogs run an obstacle course. Up to this point, the emphasis had been getting the dogs to be comfortable with the equipment one piece at a time, but now we had to put them all together. When it came time for Darth and I to do the course, I was surprised at how well he had learned all of the equipment. He did it all very well, and his only faults came from the fact that I had had him go over the A-Frame the wrong way, which then set him up to go through the Tire the wrong way. Even so, his time was at least 40 seconds better than the next closest time! Jackie and I were so proud when he was awarded the blue ribbon! Our baby is a champion!
On the morning of July 4, Darth, Judah, Jackie, and I worked the Guide Dogs for the Blind booth at the Marin County fair, answering questions about GDB and showing off the dogs. Darth was able to go as a representative of the GDB Career Change department. In addition to the GDB both, the tent we were in housed lots of chickens, ducks, and rabbits. Before it got too busy, one of the chicken raisers let one of his roosters roam around the tent, and even brought the rooster over to our booth to let the dogs get a closer look. Judah was very interested in the rooster, but Darth just wanted it to go away! I think he was a little scared or it.
Darth's eye is doing just fine. We haven't seen the eye doctor in a couple of months (his next appointment is in August ), but he seems to be doing great.
04/28/98
Well, today was the day! Darth's surgery was scheduled for 9:00 AM this morning and so off we (Jackie & I) went. In addition to Darth, we took Judah (for socialization) and a yellow lab named Viking (also from GDB) who has the same condition as Darth. When we arrived at the doctor's office, Darth knew right away that something was up. Judah, being a puppy, was just interested in smelling everything, and Viking was just glad to be out of the kennel! In preparation for surgery, both Darth and Viking had drops put in their eyes and were given injections of a mild sedative. In no time at all, Viking (who is just 58 pounds, compared to Darth's 80+) was out, however Darth just started to whine (oh those shepherds). Viking was first into surgery, which lasted about 45 minutes, then Darth. Both dogs came through just fine; the doctor believes that she was able to remove the entire lesion. As the dogs returned to us after surgery, they initially stumbled around, barely able to walk. As we waited, Jackie & I and the three dogs, as post-op medication was prepared for the dogs, both Darth and Viking stated to recover from the affects of the anesthesia. Darth started to whine, softly at first. By the time the medication arrived and we were briefed on how to administer it, Darth's whining had gotten considerably louder, and Judah decided that he too should whine. It got so bad that we could barely make out the instructions that were being given to us! When the dogs had a chance to recover a bit, we began the journey back home.
04/21/98
Darth's iris melanoma has grown since we got him back, so we have scheduled him for laser surgery on Tuesday, April 28, 1998.
If you have any comments, please drop us a line by clicking on this image

.