Poco's Story
Where's Poco? What is he into this time? Poco..........!!
Poco is the third German Shepherd Dog that we raised for Guide Dogs for the Blind, and the most energetic one yet. Although he was a handful, he was a wonderful puppy.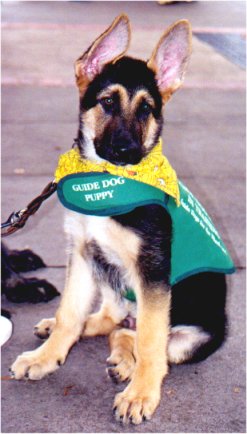 Poco and his litter mates Pauli (male), Patriot (male), Prestwick (male), Paprika (female), Puzzle (female), Priscilla (female), and Pixie (female) were born at the San Rafael campus of Guide Dogs for the Blind on August 7, 1998. His father, Dave, is Darth's litter mate so Poco is Darth's nephew. Poco's mother is Tessla.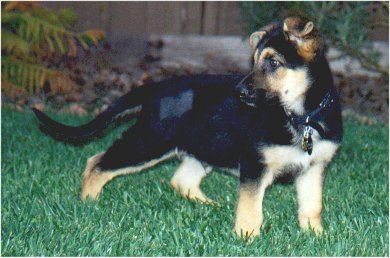 As a puppy, Poco was very active and curious. He enjoyed playing with his 'big brother' Darth, playing tug with his tug ring, and chewing on his Nylabone. He got bored quickly, so we had to constantly keep an eye on him, but he was also very smart and learned very quickly. Poco has a wonderful personality and gets along with everyone and everything. Throughout the 13 or so months that Poco lived with us, we saw a very active, energetic puppy turn into a confident, happy dog that will make someone a wonderful companion someday.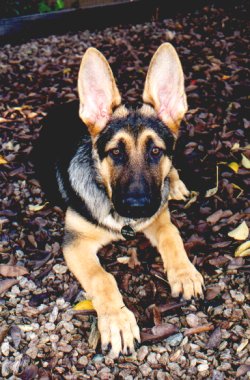 ---
The latest on Poco...
1/03/00
We don't get much information on Poco, but we do know that he is still up there in Oregon doing his training thing. Hang in there Poco, we know you can do it.
11/11/99
Poco is now in training in Oregon. He left Monday morning on the puppy truck and arrived at the Boring campus on Tuesday afternoon. As usual, it was very difficult to let him go, but we are confident that he will do just fine. The house has seemed very quite since he left (until the new puppy moved in, that is. But that is another story...). Good luck, Poco. We love you!
10/10/99
Well, it's been a while since I last updated Poco's page, so here goes. Poco is now 14 months old and weighs a whopping 105 pounds. He can still be a handful, but has calmed down considerably. He now would rather just sleep most of the time. He generally minds his manners, although every once in a while he likes to let us know that he is still just a puppy. Poco is quite smart, and picks things up fairly quickly, although he can sometimes be stubborn (just like a child)! He is a very happy puppy, and when his tail starts going, watch out!

Poco has been a very busy boy recently. This summer we attended the Sacramento, Davis, and San Rafael fun days, and enjoyed them all. Poco got to visit with his sister Paprika at the Sacramento fun day, and got to visit with three of his sisters at the San Rafael fun day. He is a moose compared to them.

Poco took his first airplane ride this summer when we went up for Judah's graduation at the Oregon campus. He did very well on the plane, sleeping most of the way, and flirting with the flight crew the rest of the way (he is a big ham!). After the graduation ceremony, Judah's new partner David let Poco and Judah play together for quite a while, which is one of the reasons Poco slept so well on the plane ride home that evening. More recently, Poco, Darth, Jackie, and I took a long car trip down to southern California. It took about 10 hours to get there, and the same to get back. While on the trip, Poco was exposed to a lot of new situations, and he handled them all very well.
We recently received Poco's recall letter in the mail, and he will be leaving for Oregon on November 8. We have become very attached to him, and it will be hard to see him go. We already miss him. Good luck, Poco.

2/10/99
It's only been 2 months since the last update, but boy how Poco has grown. He is now 6 months old and weighs 74 pounds! He has a wonderful personality, and is still very active. He keeps us (including Darth) very busy.

Darth & Poco made out like bandits at Christmas (especially Darth, of course). Poco got a new Nylabone, while Darth got a new frisbee. They both had a wonderful time. On New Year's weekend we took the boys to the beach. It was Poco's first beach experience, and he had a great time. Boy did he get sandy that day!
More recently, we attended the January graduation ceremony at GDB San Rafael, which was Poco's first. He was very excited to be around all those dogs, but he finally settled down during the ceremony. Poco also attended his first fun day - the Santa Clara County fun day, and boy did he have fun! Again, he was very excited to be around all those other dogs, but he did settle down after a bit and completed all of the events. The food obstacle was the hardest for him. You'd think he was a lab when it comes to food, rather than a shepherd. He loves his food and finds it hard to resist those tempting morsels laying on the ground in front of him. We are looking forward to going to more fun days in the months to come.
This past Sunday, the local T.V. show Bay Area Backroads aired a segment on guide dogs and GDB, and wouldn't you know it, Poco was on it! Our baby is a celebrity. They showed footage of the 1998 GDB Hoilday Luncheon when Poco went up to the camera! He was so cute.

12/04/98
Well, Monday was the day that Poco became a big boy. That's right, he got his rabies shot and is now ready to conquer the world!
At 4 months, Poco has already learned so much! He knows Sit, Down, Stay, Wait, and Come. He has a great personality and is very affectionate (a little too affectionate sometimes).
On Tuesday, December 1, Jackie and Poco attended the annual GDB Holiday Luncheon in San Francisco, which is fund raising event where people get to view dogs from GDB up close. The dogs, which range from 8 week old puppies to class ready guides, walk across the stage while the MC, which this year was Doug McConnell (the host of a local Bay Area show called Bay Area Backroads ), talks about guide dogs. When it was time for Poco to walk across the stage, he decided that the television camera that was filming the event right next to the stage just had to be explored, and so went right over to it and stuck his nose right on the lens. Of course everyone watching just had to laugh and applaud at that. What a ham Poco is! Everyone had a wonderful time, and Poco came home exhausted.
If you have any comments, please drop us a line by clicking on this image

.